Studeren in het buitenland. Hoe zit het met je studiefinanciering?
Steeds meer studenten kiezen voor een stage of een studie in het buitenland. Wat is er mogelijk wat betreft studiefinanciering vanuit Nederland? Hoe regel je dit en waar moet je rekening mee houden? Arno Dieteren, voorlichter bij DUO, vertelt je er graag alles over!
This presentation will be given by: DUO Studiefinanciering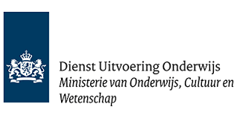 See the full programme
Featuring more than 50 presentations across three lecture halls.
General
Help, mijn kind gaat naar het buitenland! Informatie voor ouders over buitenlandervaringen.
Heeft uw kind plannen om naar het buitenland te gaan? Gefeliciteerd, uw kind gaat daar veel aan hebben! In deze presentatie laten we zien hoe uw kind goed voorbereid aan dit nieuwe avontuur kan beginnen. Daarnaast vertellen we meer over de voordelen en de financiering van een buitenlandervaring.
Vrijdag 12.40-13.10
Programme