Studeren in Zwitserland
Dirk vertelt in deze presentatie over zijn studie-ervaringen in Zwitserland. Hierbij gaat hij in op zijn motivatie om voor Zwitserland te kiezen, en waarom Zwitserland een bijzonder land is om in te studeren. Verder bespreekt hij praktische zaken wat betreft de voorbereiding van een Zwitserse studie, zoals financiering en accommodatie.
This presentation will be given by: NWS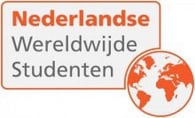 See the full programme
Featuring more than 50 presentations across three lecture halls.
Study/Exchange
Exchange in het buitenland. Waar begin ik?
Een korte periode in het buitenland (exchange) tijdens je studie is een aanrader. Het staat goed op je cv én is een geweldige manier om een nieuwe taal of cultuur te leren kennen. In deze presentatie vertellen we hoe je je uitwisseling in het buitenland het beste kunt voorbereiden en financieren. WilWeg-ambassadeurs die zelf op exchange zijn geweest geven je tips & tricks.
Vrijdag 14.00-14.30
Programme